Main Zipper Back or Front - Everything about Zipper and how to put on a Wetsuit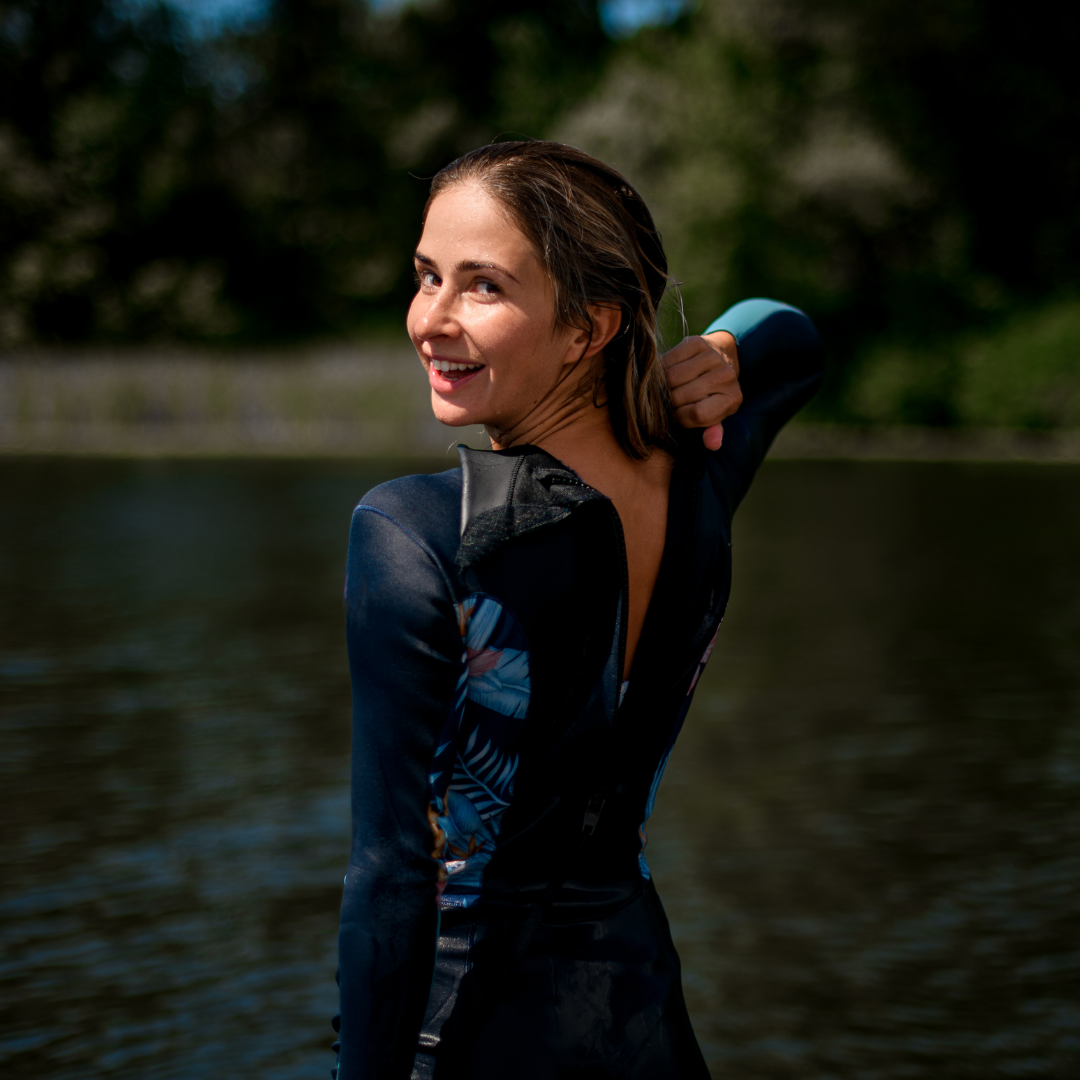 This Guide will answer the misery of what is better: Front Zip or Back Zip when it comes to wetsuits. Additional on top we reveal you the secrets of getting into one. Take some seconds to be utmost prepared for your next water sport session.
It is personal preference to dispel this myth very quickly. Wetsuits are available with zippers in front and in the back. We also offer you ankle zipper, wrist zipper and a fly zipper.
Back Zipper
Lets start with back zipper. Back zips are the easiest way to get in and out off. This beginner-friendly method comes with a cost. You trade a bit water migration with more comfortability. If you are a newcomer in the wetsuit game you may choose a back zip for your first wetsuit. No one will judge you on your decision. If you need more comfortability, you may need extra ankle and wrist zipper. Those zips provide you with more flexibility and save you some time which you can spend on the water. If you are a persistent sporting ace and fan of extra long water sport sessions, then you are the perfect candidate for a fly zip. A fly zip is the elegant version of a bathroom break.
Front Zipper
Front Zips are a little harder to get into. If you got shoulder injuries or you got a little bit old you may have some starting problems but it is the ultimate when it comes to sealing out water. We designed our custom wetsuits with a wide stretchy opening, so you can step easily through. Our custom wetsuits can open very wide and you do not have to worry about to fit in. It takes a little bit of practise though and cost you maybe an extra 10 seconds to get on the water. But on the water you may have more fun.We use for all our zippers the new revolutionary Stainless Steel G-Lock Zipper which is like no other wetsuit zip. Uniquely designed off-set teeth turns wetsuits into dry-suits with almost no water penetration. Stainless G-Lock zips are corrosion free and virtually unbreakable.
How to put on a wetsuit
Puting on a wetsuit can be a pain in the... After choosing the right zipper, we lend you with this helful manual a hand to pull your wetsuit right and tight.
Step 1 - Foots, Ankle, and Legs
One step at a time.
Put your wetsuit over feet and ankle and work your way up to your upper leg.
Make sure that your knee pad fits exactly over your knee. There should be no crease in your knee-bend.
Step 2 - Crotch, Hip and Torso
Put your wetsuit over your hip until the lower half of the wetsuit is completely on one height with your crotch.
Take care that the wetsuit material is not twisted around your legs.
Pull your wetsuit over your torso and take care that it fits very well. There should be no creases to the waist.
Avoid to wear sharp-edged jewelry during your water sport session.
Step 3 - Arm and Armpit
Put your wetsuit over your arms – one after the other.
Do not use your fingernails for this operation!
There should be no creases around your sleeves as well.
Avoid to much space between armpit and wetsuit. This typical error leads to less flexibility and is not very comfortable for shoulders and back.
Step 4 - Shoulder and Nape
Pull your wetsuit all the way up until the material is above your shoulder.
Close your wetsuit with your front or back zipper and avoid to get tangled up.
After being completely dressed up, close the fastener (only with back zip).
Take care that the wetsuit "neck" fits tightly on your throat. Now it works like a valve and regulates water migration in the best possible way.
Step 5 - Verify the Fit
After being dressed up, do some stretch to test the fit.
Stick to the safe ground that your wetsuit fits and is cozy.
Squat down to test your flexibility in your legs and arms.
Double check through arm rotation your mobility.
If you are a visual learner, we recommend the following video for front zipper and this video for back zip wetsuits.