Custom Wetsuit Thickness and Temperature Guide – Surfer Edition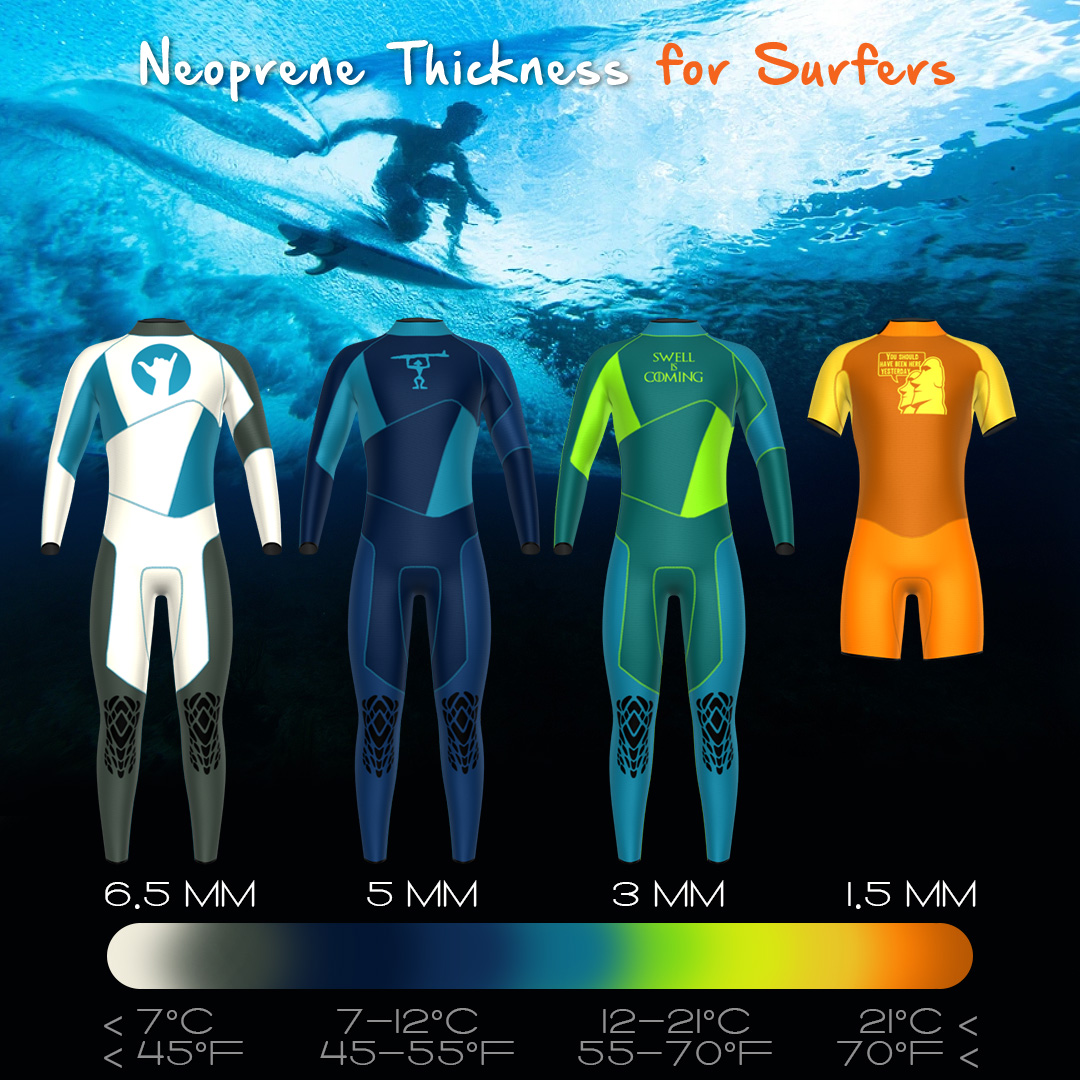 You are in need for a custom wetsuit and you are looking for the right wetsuit thickness? After reading this Custom Wetsuit Thickness Guide – Surfer Edition your only open question should be where to book your next flight to your perfect surfing location and how to catch the next wave.
Before we start exploring the world of wetsuit thickness, we should begin our journey with some general facts about wetsuit material and their interaction with temperature. A wetsuit is made of foamed neoprene, is worn by surfers and divers and guarantees thermal protection while wet. One of the major risks in water sports is to cool down and expose yourself to chilling temperatures. A suitable custom wetsuit provides thermal insulation, which lowers your energy consumption and sharpens your surfing skills. On top of that, a custom wetsuit with the right amount of thickness protects you from UV exposure and several surferish injury patterns like abrasions or stings from sea urchins.
Our wetsuits are made 100% from double lined neoprene – neoprene with 4-way-stretch nylon lining on both sides, inside and outside – for protection, durability and warmth, and good characteristics in elasticity and compression. We do not use smooth skin lined neoprene, which has a better protection against wind, but is less flexible. Furthermore, combining two neoprene types of different elasticity makes the wetsuit less robust. Between the nylon linings we use W8 neoprene type, which is the most commonly used neoprene and is more pliable and softer than other neoprene material. It has good elasticity for surfing and diving to a depth of 30 meters.
Why using a custom wetsuit?
Especially in colder waters, the right chosen wetsuit thickness comes with a cost: Your flexibility of movement. The thicker the neoprene foam, the more immobile you are. For colder waters you trade flexibility with warm. However, a precisely tailored custom wetsuit offers flexibility in all your movements. A custom wetsuit reduces the margin between your body and the wetsuit material. Therefore water leakage is reduced to a minimum and your temperature and kinetic energy level stays high. What exactly cold waters are is a question of personal preferences. Keep in mind that this is an approximate guide. It depends on how you feel the cold as well as how long you spend in the water. In general this should be a good starting place in choosing a wetsuit. If you feel the cold, go up a thickness or add a shorty underneath your wetsuit to boost the warmth.
Different kinds of water
To put it simply, there are roughly three types of water: tropical, warm and cold water. For tropical surfing areas like Bali or Hawaii is our advice to use your favourite t-shirt, short or bikini and don't forget water resistant sun crème.
1,5mm wetsuit thickness – Water Temperatures around 70 degree Fahrenheit
In warm areas like the Mediterranean or Ocean City, we highly recommend our custom spring suit. The 1,5mm wetsuit thickness preserves your skin from sunburns and gives you all the flexibility you need to ride the next wave during higher temperatures.
3mm wetsuit thickness – Water Temperatures between 55 to 70 degree Fahrenheit
One thing is for sure: Our 3mm custom wetsuit is your perfect companion and a convincing generalist in areas like Gold Coast (winter), Algarve (summer), Jeffreys Bay or Cape Town. If you want to own just one wetsuit, then our thinnest steamer should be your appropriate choice. With a 3mm wetsuit thickness there should be no chance, that your surfing trip will be ruined by weather changes or colder air temperatures. In those cases you should consider to wear some surfer boots, surfer gloves and during breezy wind a surfer hood. We can provide you with those equipment. Just send us a request.
5mm wetsuit thickness – Water Temperatures between 45 to 55 degree Fahrenheit
The next category is only for tough surfer and makes the above-mentioned surfer goodies obligatory. If you want to catch some waves on Vancouver Island or on some shores in the UK, you should definitely wear a wetsuit with 5mm wetsuit thickness, surfer gloves, surfer boots and a surfer hood. The equipment in its entirety is called hooded full-suit and guarantees you the perfect surfer experience under suboptimal conditions.
6,5mm wetsuit thickness – Water Temperatures around 45 degree or less Fahrenheit
If you want to surf under extreme conditions with water temperatures under 45 degree, you should overthink your decision and when you still come to the conclusion, that this is a good idea, take our extremely warm winter wetsuit with an wetsuit thickness of 6,5mm. Not to mention a set of surfer gloves, surfer boots and a surfer hood. You will need it. 6,5mm wetsuits have to fit particularity very well around the cuffs and the ankles. Try to overlap layers like gloves and boots as much as possible to slow water migration.
Elbow and Knee Pads
Surfboards are infamous slippery and need to be polished regularly. This costs you money, time and it is an ecological suicide. Elbow and knee pads are a perfect alternative for wax. Our pads give you more stability, a firm stand and more control for vertical maneuver and duckdives. For knee and elbow pads we use padding's from polyesther urethane which are heat transferred and free of stitching. A bad albeit too common idea is to stitch a pad on the Knee and Elbow which when bent can weaken the outer layer of the main part of the Wetsuit. Our stitch-free pads are stretchable and very strong against abrasion.
Last but not least - The Seams
The seams are the most vulnerable spot of any wetsuit. All seams associated with neoprene should be located in low stress areas. One of the worse places to put a seam is in the crotch and under the arm pit. The constant stretch will inevitably weaken the seam and result in leaks. The seams of your wetsuit are stitched manually which is an important quality characteristic. Industrial made state-of-the-art wetsuits often only glue their seams which makes them vulnerable. For our 1.5mm and 3mm wetsuits we do Two Thread Single Blind Stitching on the outer side, and Two Thread Double Blind Stitching on both sides for 5mm wetsuits. Wrist, ankle & neck seals are made out of super multi-flex heat reflecting titanium neoprene that has been special treated with a smooth sleek surface to ensure easy wearing. Therefore the water exchange is minimized thus makes the suit a superb thermal isolated wetsuit. For seams, we use the water repellent version Serafil WR, a sewing thread from the Amann Group, one of the basic requirements for water-tight seams.